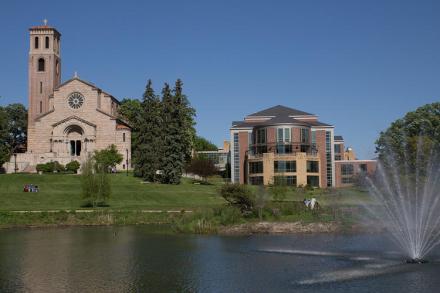 The Pause at 25 will gather Collegium alumni/ae from each of our member campuses to renew the spirit they encountered at Collegium and to think with key administrators about how to advance our conversation into the next 25 years.
Each of Collegium's member schools is invited to send three participants to join us June 21-24, 2017 in St. Paul, providing a chance for alumni/ae to re-engage with Collegium. Annual member dues cover the cost for attendance and travel for those three participants. We suggest that each team of alumni/ae include one early-career faculty member and one mid-career faculty member. We also ask that each school send one senior academic administrator — someone who may or may not be a Collegium alumna/us, but who can think about the links between mission and teaching and learning, and who is in a position to implement change on campus.
We would love to be able to invite all of our interested alumni/ae back to reflect and celebrate together. Since we're a bit more constrained in terms of possibilities, we rely on our campus liaisons to make final decisions about who will attend from each campus. Alumni/ae who would like to attend are encouraged to speak with their liaison.
Once a liaison has notified us who will be attending from that member school, we will email those participants and provide a password to access registration. If you have received your password already, please enter it on the registration page to proceed with registration. Please note that once you have registered, you will not be able to change or add information, but will need to contact us directly to make changes. Upon registering, you will receive an email confirming your registration and the information submitted.
Registration opens Monday, December 5, 2016. The deadline for registration is Friday, May 5, 2017.